As an agent, I frequently encounter buyers asking me about the market, when I think it's going to change or crash, and often I hear "I'm going to wait until prices go down". Bad idea. To illustrate why, I've shared a chart that shows sold home prices in San Diego for the last 14 years. It's easy to see the previous high, the low, but most importantly, the slow, steady growth of home values since 2009 that has put us at least 10% higher than the highest price before the crash, & the median being 15% higher today than a year ago. 8-15% growth per year is a fantastic investment. The SD housing economy is growing strong and will continue to do so.
What buyers need to know is how to navigate the current conditions. Here are some tips for buying a home in a strong seller's economy:
Do your homework. Visit lots of open houses and tour homes with your agent to educate yourself about what you can buy in your price range.
Be ready to make an offer. Homes along the coast are rarely available for longer than 60 days if priced correctly. If the pricing is at or under market value, homes will often sell before even going on the MLS. To give yourself a fighting chance at getting a good deal on a great home, be prepared by getting pre-approved or ready with funds available.
The #1 tip for buying: Make sure you are in the hands of a local expert! Hire an agent who knows the neighborhood very well (preferably lives there), who understands your needs, and who knows how to find and negotiate what you're looking for. San Diego neighborhoods vary greatly and having the right buyer's agent can make all of the difference.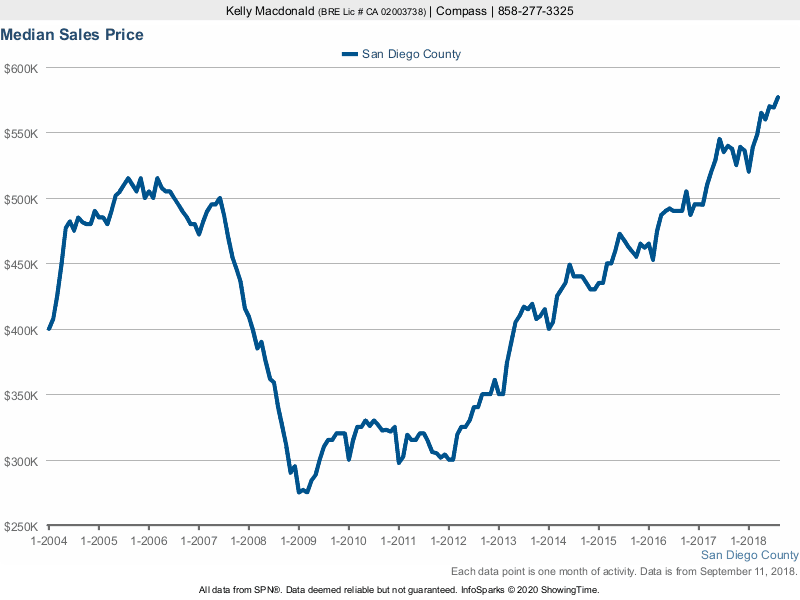 Graph courtesy of Sandicor MLS.